Generating SDKs in APIMatic
You can generate ready-to-deploy SDKs in any language of your choice for your API specification file in any supported format. APIMatic further provides flexibility to customize code generation using Customizable CodeGen Settings.
Depending on your environment, APIMatic offers the following ways to generate SDKs:
Generate SDKs via Web
On the APIMatic Dashboard, click the Generate button for the API you want to generate SDK for.

If your API has multiple versions, you're prompted to select the API Version you want to generate SDKs for. Click on Proceed. If you have a single version of the API, you will not be prompted.

Before generating the code, APIMatic performs validation of your API Specification. Code generation cannot proceed if the validation fails. You will be required to fix the issues listed for your definition if that happens. Click Proceed to move to the next step.




Upon successful validation, you will have the option to obtain the SDK in three possible ways:

Download the SDK as a Zip file
Deploy SDK on GitHub
Publish SDK as a package

For this walkthrough, we will download the SDK as a ZIP file. Click on Download as Zip.

Next, select the Language Platform for your SDK generation:

Select the required Template for that particular language/platform.

Once the SDK is generated successfully, you can either choose to click on Generate for another language or download the SDK by clicking on Download as Zip. By default, it is downloaded to your default download location and the zip file is named as <API-NAME>-<SDK-PLATFORM>.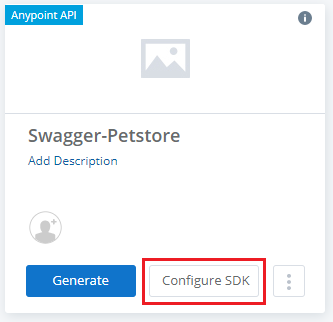 Generate SDKs via API
You can generate SDKs in any language of your choice for your API specification file using APIMatic's CodeGen API. This can be done either on files on your system (external), or API specifications imported into APIMatic as an API entity.
Generate SDKs via External Files
Generate SDKs via Imported APIs