Adding Packages to Portal
Specify what packages you want to display on your portal. This can be done in two ways. You can either:
-Add Packages Manually
-Publish Packages on-spot
To add packages to your portal:
Navigate to Customize Portal Screen and move to the Docs Section by clicking on Docs
On the Docs section, click Languages
Click Published Packages to open the the Package Management Dialog
Note On the Package Managment Dialog, choose between adding packages manually or publishing them via APIMatic.
To Add Packages Manually:
Select the Package Publishing Repo, Specify the Name of your Package and Specify the Version
Click "X" to remove package
To Publish Package on-spot:
Click Publish via APIMatic
Upon continuing, some validation checks will run on the API Description. If your API Description is valid, you will be given the option to continue further.
Click Proceed when API Validation succeeds
Select Repository. If you have not added credentials for your desired repository, you will be redirected to the credentials page
Add Package Name and Version and click Publish
Note Please make sure that the package name is unique and a package by that name is not already published on the platform that you're publishing to (e.g npm).
Give it a few seconds. You will receive a confirmation message when the package is successfully published.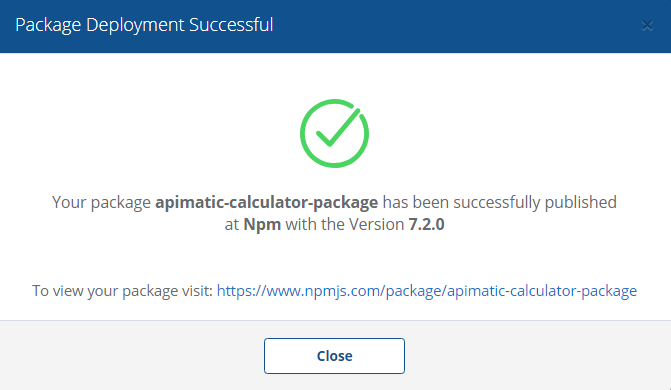 Now you can go ahead and visit the URL to see your published package.
If you have previously published packages via APIMatic, you can alternatively select them from a dropdown as well.
To remove a package, click the "X" button.
---
Have questions? Submit a request.